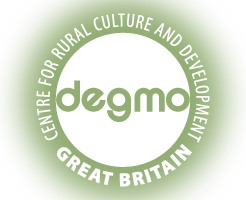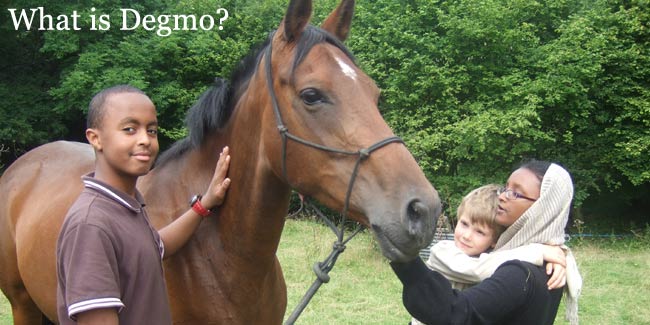 In the Somali region of Africa there has long existed a convention amongst families living in the towns that during school holidays their children be sent to the countryside to stay with nomadic relations. Whilst helping to tend to the herds of camels, sheep, goats, and cattle upon which their relatives depended for their livelihood, children from the towns are imbued with the ethos, morals, and culture of the nomads and learn to appreciate and understand the value of the pastoral heritage which contributes so much to the identity of the Somali people, their language and customs. In the heart of the British countryside Degmo provides Somali families from inner cities throughout the UK with the opportunity to continue this tradition.

True to its nomadic roots, Degmo is a seasonal encampment of tents, erected during the warmer months from April until the end of October. But don't confuse this with a British camping holiday. Tucked behind hedges and trees, each family is provided with their own accommodation: a spacious Aqal Somali style tent in which up to seven adults may sleep in comfort with plenty of room to stand and sit. And as Somalis feel the cold, everyone is provided with mattresses, pillows, and extra blankets, whilst hot showers and lavatories are set up nearby, all fully compliant with Islamic codes of behaviour.

For the preparation and enjoyment of food, relaxation, singing and dancing, talks and discussions and demonstrations, two or more huge circular tents are combined to create a fantastic living space. Inside is a fully equipped kitchen, crockery and eating utensils, water heaters, benches and tables, and roaring wood fires for cooking and keeping warm. If required, there is a sound system for music, a projector on which to show pictures and films, and, in keeping with Islamic custom, provision can be made for separate seating areas for men and women. Finally, as would be expected in a real Degmo, visitors will find in use a collection of genuine Somali artefacts: haan and dhiil milk vessels, milking pales and bowls, pestle & mortars, sandals, herding sticks, ropes and numerous other everyday items made and used by the nomads.

In the Somali region it is not unusual for people to travel from their homes in the cities to the countryside so that they may cleanse themselves of the dirt and grime of the town. Of great importance during such trips is the consumption of quantities of fresh camels' milk: a foodstuff believed by Somalis to possess medicinal properties as well as being upheld for its purity and powers to purge the body of impurities.
At Degmo, whilst unfortunately we are unable to provide fresh camels' milk, we do however attach great importance to encouraging our visitors to eat well and prepare their own food using the fresh local produce we supply. Sheep reared on the farm are kept to strict organic standards certified by the Soil Association then slaughtered in a nearby Halal abattoir to provide meat for the kitchen. Eggs are collected daily from our chickens and vegetables come from local growers. For the preparation of Somali laxooh and baking bread, biscuits and pizzas, fresh stone-ground organic flour is obtained nearby from the award winning Bacheldre Watermill. Other ingredients, such as bananas, limes, dates, raisins, rice and pasta, tea, sugar, cooking oil, and spices are sourced from Fair Trade wholesalers. The above items are included in the cost of your stay.
At Degmo all age groups are catered for. In fact we especially encourage visits from groups containing two or, better still, three generations. Bring Granny and Grandpa as well as the children: they will all enjoy their stay and benefit from the experience in so many different ways.

For many older Somalis, sleeping under the stars, awaking to the sound of bleating sheep, milking a goat and savouring the smell of wood smoke from an open fire brings back fond memories of a childhood spent herding the family's livestock across the plains and mountains of the Horn of Africa. To then be able to demonstrate their knowledge of livestock, the lore of the desert, and the customs of the nomads in a setting which is so much more relevant than the concrete surrounds of their adopted inner city existence fills them with a sense of new found pride and purpose. Better still, their tales told, their songs sung, and their demonstrations given of ancient skills and arts once learnt and never forgotten provide the younger generation with a unique insight into their own origins. In the context of Degmo, away from the distractions of the city, the stories that Granny and Grandpa tell about life in the homeland which previously seemed irrelevant, suddenly assume a more profound importance.
On this page: