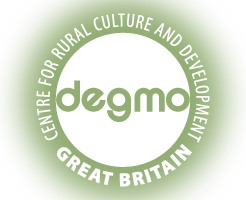 Degmo in the media
One of Degmo's ambitions is to create headlines of which Somalis can be proud. In this we have achieved considerable success. Here are a selection of the articles, radio programmes and video that have featured Degmo.
14.02.11: You Tube
We've found three third party videos made by visitors to degmo. You can see them here, here and here. All are worth a look.
13.01.10: Voice of America
Please note this is broadcast in the Somali language.
08.01.10: Marie Claire (Italy)
The Italian edition of Marie Claire came to see us recently. They managed to get Hamish's age wrong - you can see the article here
If, like us, you can't understand Italian, you could run it through Google translate... "His Africa is a piece of wood on the moor, where on weekends you sleep in tents, prepare the bread, we tell stories around the campfire. As if we were not in England but in Somalia, second home of Hamish Wilson, photographer of the BBC. That with this bizarre farm house feels like immigrants of all ages (even those never been to Mogadishu)." OK...
01.12.09: Burngreeve Messenger
A local paper in Sheffield ran this story about Degmo illustrating our work in cities as well as on the farm. You can see the article by clicking here
13.11.09: The Guardian
There's a great new video about Degmo on the Guardian website. Somali teenagers Nura and Ilias live in London's East End. They come out to visit us, discover the treasures of the countryside and learn a little about their roots.
You can see it here.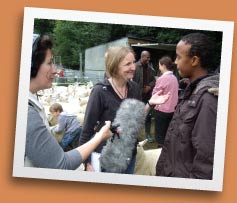 15.09.09: BBC Radio 4
We've had a string of visits from the national media, most recently BBC Radio 4's "On Your Farm".
You can listen to the radio broadcast by clicking the "play" button on the bar below, or go to the BBC page here.
Everyone who comes to visit Degmo seems to have a good time and really understands what we are doing here. It's given us a chance to spread the word to a wider audience. The Guardian article can be found here.
On this page: