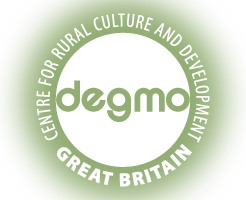 The word degmo is used by Somalis to describe a group of several encampments erected by families of nomads whilst grazing their herds of camels, sheep, goats, and cattle. At Hangingheld Farm we have created our own version of a degmo and turned it into a centre in which you are invited to stay.

When you come to visit the farm you will stay out of sight and sound of roads, buildings, and artificial light in a spectacular array of round tents spread along a tranquil valley in a style reminiscent of a real Somali degmo. But don't confuse this with a traditional British camping holiday. The tents are spacious with plenty of room in which to stand, sit, and sleep, and to ensure everyone is comfortable, mattresses, pillows, sheets and blankets are provided, and hot showers and lavatories set up on site, all fully compliant with Islamic codes of behaviour.
For the preparation and eating of food, socialising, singing and dancing, talks and discussions, several tents are combined to create a fantastic living space fitted with a fully equipped kitchen, crockery and utensils, water heaters, benches and tables, and camp fires for cooking and heating. If you need a sound system for music, or a projector on which to show pictures and films, these are also available. And, in keeping with Islamic custom, provision is made for separate areas for men and women.

Farming is about the production of food. We pride ourselves on the welfare of our animals and the quality of our produce and so naturally we want our visitors to experience the pleasure and benefit of eating only freshly prepared food made from the best local ingredients.
Sheep reared on the farm are kept to strict organic standards certified by the Soil Association then slaughtered in a nearby Halaal abattoir to provide meat for the kitchen. Vegetables come from surrounding suppliers and, for baking, freshly stone ground organic flour is obtained nearby from the award winning Bacheldre Watermill. Additional ingredients are sourced from Fair Trade wholesalers.
Menus are Halaal and use a combination of traditional Somali recipes and local and international dishes. For cooking on we provide a large gas catering range, but food is also prepared on open fires, and this year we are building a wood fired bread oven in which you can bake bread and cakes, pizzas and other goodies. Everyone is encouraged to join in and to experiment with recipes which are not only fun to make and taste good, but are also nutritious.
The arrival of the Holy Month of Ramadhan need not prevent you visiting the farm. Why not bring your family and friends and celebrate in the tranquillity of our Degmo? Full facilities for prayer and special fasting menus are available. No neighbours to disturb if you wish to stay up all night, and plenty of peace and quiet for sleeping during the day!